Dutch & Deckle is happy to celebrate so many incredible female entrepreneurs this Women's History Month. Last month, we collaborated on an awesome project with our friend Dr. B and had the pleasure of learning a bit more about her business and the way that she uses her D&D planners to manage all the moving parts. We're so excited for you to meet her too!
Jasper! You're the primary dentist and owner of 2thbar — tell us a little about yourself.
I have been a dentist for over 20 years and recently opened my own practice, 2thbar by Dr. B, The Premier Dental Boutique in CO. I'm a wife, mom, entrepreneur, and an influencer. I was born in the Philippines but spent my childhood as a missionary in Ethiopia. We moved back to the Philippines when I was 12, and I met my husband, Darryl. After a whirlwind courtship, we got married and I had our daughter at 19. Studying dentistry while a young mom and new wife at the same time was challenging, but we were blessed with a great support system, and I was determined to maintain my scholarship and finish my studies on time. At the age of 20, I graduated Magna Cum Laude with a Doctor of Dental Medicine (DMD) degree.

In 2002, Darryl and I went back to college and earned our BSN-RN degrees in 2004. This allowed us to move with our daughter to the States through employment-based immigration, due to the high demand for nurses at the time. After moving to Denver, I earned my second dental degree from UC School of Dental Medicine. I was awarded membership in Omicron Kappa Upsilon, the honorary dental society, for graduating at the top of my Dental class.
We've loved partnering with you on this amazing collateral for your clients — with so many visitors at 2thbar, how do you stay organized?
Thank you, I've loved partnering with Dutch & Deckle as well! To stay organized, I make my to-do lists and jot down so many notes. I multitask so often and manage so many things, both in my personal and professional life, that I need to plan ahead and prioritize to make sure that things get done in a timely manner. I put reminders and alerts on my phone calendar and now with my beautiful custom 2thbar planner, journal, and notebook from Dutch & Deckle, I can keep myself even more organized. In the past, I would grab random post-it notes and pieces of paper, and of course, misplace them. Now I can look in my D&D planner to see what I have planned ahead on a daily, weekly, monthly basis. I love how customizable, beautiful and high quality the D&D products are, which makes them even more special and a joy to use.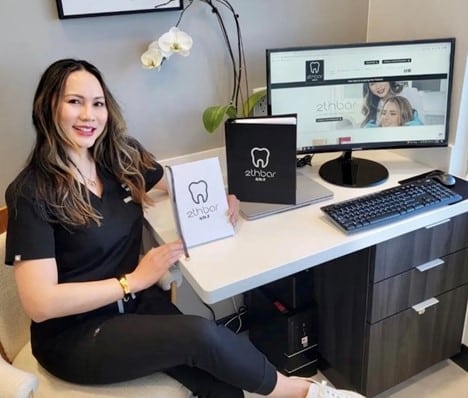 What does a day in the office normally look like for you?
A day in the office usually starts with a staff morning huddle where we pick and share motivational quotes from our Dutch & Deckle Gratitude Cards. We always set positive intentions and go over our schedule to plan how we as a team will provide the best care for our patients. Currently, I am the only dental provider at 2thbar, so each patient sees me from beginning to end. Each visit is curated to the individual, ensuring a smooth workflow, undivided attention, continuity of care and a high level of patient satisfaction. I am truly hands on and involved in all the aspects of running 2thbar.
Running a business can be stressful and so much work goes into the level of care you provide – do you have any tips for other business owners to keep everything moving smoothly?
You need to know who you are and what you and your business stand for, while maintaining clear short- and long-term plans on how to achieve your goals. Stay guided by your values and principles and once your decisions are made, put them into action with confidence, determination, and perseverance. Surround yourself with family, friends and people who support, inspire, and motivate you every day. Lead by example, which feeds into proper hiring and training to develop independent high-performing staff. Learn to trust and delegate wisely, while staying assertive and standing up for yourself. Don't take things too personally and don't waste your time on things that are beyond your control. Be mindful of reducing overhead expenses and have systems in place for maximum efficiency. Treat everyone with kindness and respect. Lastly, invest in yourself, your staff, your clients, and your business!
How did you come up with the concept for 2thbar?
The concept for 2thbar took years in the making and is the culmination of combined knowledge and experience. We personally appreciate beautiful aesthetics and interior design, meticulous attention to detail and excellent customer service, and wanted to create a dental experience that incorporates all these things, elevating your dental visit and making it extraordinary. Our design concept is open and chic, like a boutique hotel, rather than a clinical space. Soft lighting, aromatherapy, piped-in music, cool artwork, comfortable sofa and chairs, a welcome beverage, and a warm and friendly greeting in our lobby. Our private glass enclosed treatment suites are equipped with the latest modern high-end equipment, digital entertainment and afford expansive panoramic views of the city and Rocky Mountain landscape. I personally consult with every patient and listen to their dental concerns to provide the highest level of attention, professional service and quality care that is customized to their needs. We truly want to provide the best dental experience possible with concierge dentistry; 2thbar is our home and everyone who visits is welcomed as a VIP guest with sincere kindness, respect, and empathy.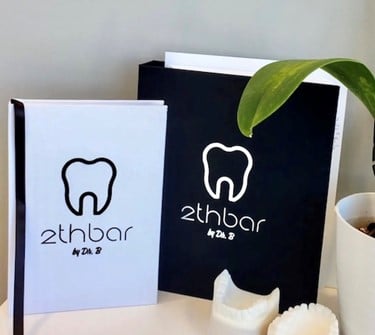 At the end of the day, how do you like to wind down and take a break from being a rockstar dentist and business owner?
At the end of the day, I like to have a nice dinner out with Darryl or good friends, enjoying each other's company and great conversation in a beautiful setting with a glass of wine and delicious food. Every month, I make sure to plan time for pampering self-care; Don't forget to set aside personal time for rest and rejuvenation. You must take good care of yourself first to take good care of others. Relax when you can and enjoy the journey! Finally, I love coming home to my furry baby, Valentino. He is adorable and a huge de-stressor; playing with him relaxes me and taking walks together gets me outdoors to enjoy fresh air and the beauty of nature.
We had so much fun chatting with Dr. B and hope you enjoyed reading about her planning practices, her effective time management skills, and her passion for dentistry. If you're in the Denver area and looking for your next dentist visit, we cannot recommend 2thbar enough! Check out their Instagram to follow along Dr. B's incredible journey!
As Dutch & Deckle forges ahead this year, we cannot wait for more collaborations with amazing women-owned businesses. Inquire with us today for customized corporate planner, journal or notebook needs!